Estou super feliz por estar a escrever este post sabem porquê? Porque para além de ter amado este produto a marca é vegan e portuguesa! Vamos ler?
I am super happy to be writing this post know why? Because in addition to having loved this product the brand is vegan and Portuguese! Let's read?
A VeganCare é uma marca de cosméticos vegan, que não testa em animais e que aposta na agricultura orgânica! Fantástico certo? Mas há mais, esta fantástica marca é portuguesa! 
Esta marca preocupa-se com os animais, ambiente e connosco, claro! 
VeganCare is a brand of vegan cosmetics that does not test on animals and that bets on organic farming! Fantastic right? But there is more, this is a Portuguese brand!
This brand is concerned with animals, environment and with us, of course!
Assim que vi esta marca no Facebook fui falar com eles. A Sofia Vieira (Engenheira Química), super querida, respondeu logo e disse que me oferecia, para experimentar, um champô sólido. Recebi em poucos dias e óbvio que experimentei logo! Aqui vai a minha SINCERA opinião:
Assim que retirei o champô do envelope, cheirou logo super bem! O meu champô é para cabelos normais e é feito de rosas e oliva, por isso imaginem o cheirinho a rosas ♡ Depois reparei num ponto negativo (o único): o champô é embalado em plástico. Claro que ser champô sólido já poupa imensos recursos e reduz o consumo de plástico, mas poderia ser embalado em papel apenas 🙂 
As soon as I saw this brand on Facebook I went to talk to them. Sofia Vieira, that was so sweet, answered soon and said that she was going to offer me a solid shampoo to try it out. I received it in a few days and obviously I tried it soon! Here's my SINCERE opinion:
As soon as I removed the shampoo from the envelope, it smelled great! My shampoo is for normal hair and is made of roses and olive, so imagine the smell of roses ♡ Then I noticed a negative point (the only one): the shampoo is packed in plastic. Of course being solid shampoo already saves a lot of resources and reduces plastic consumption, but could be packaged in paper only 🙂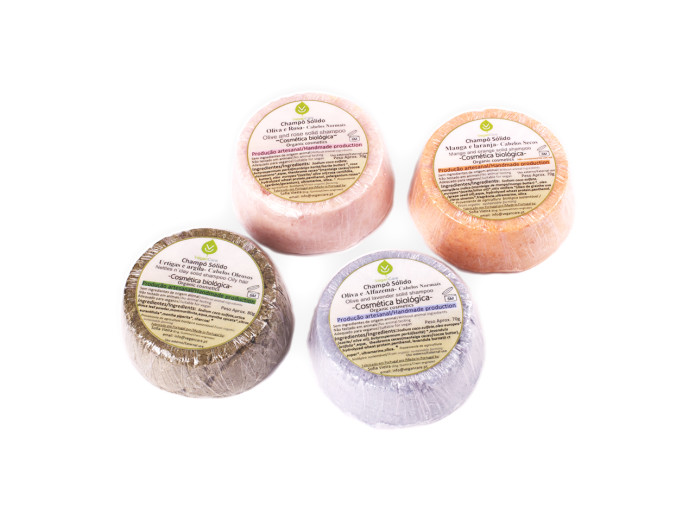 Agora passamos à melhor parte: usar! Para se usar um champô sólido basta esfregá-lo no cabelo (aos círculos) e a espuma vai logo aparecer 🙂 Um mega ponto positivo: nunca usei um champô que fizesse uma espuma tão macia como este. Fiquei super surpreendida ♡
Now let's go to the best part: using it! To use a solid shampoo just rub it in the hair (in circles) and the foam will soon appear 🙂 A mega positive point: I never used a shampoo that made a foam as soft as this one. I was super surprised ♡
Para mim bastou lavar uma vez a cabeça, o champô lava bastante bem o cabelo, fica-se mesmo com a sensação de cabelo lavado. Depois de seco, o meu cabelo fiquei leve e super macio, não podia desejar melhor!
Conclusão: a marca conquistou-me por completo e recomendo, seriamente, que experimentem, tanto por vocês como pelo ambiente e animais ♡ Existem já algumas marcas do género, mas para mim, o ponto essencial aqui, é apoiarmos projetos portugueses que fazem todo o sentido em crescerem!
For me it was enough to wash my head once, the shampoo washes my hair well enough, I really got the feeling of washed hair. After dry, my hair was light and super soft, could not want more!
Conclusion: the brand has conquered me completely and I seriously recommend that you try both for yourself and for the environment and animals ♡ There are already some brands like this one, but for me, the key point is that we should and have to support Portuguese projects and help them growing!
Eles têm champôs para todos os tipos de cabelo e até têm condicionador! Para além de produtos de cabelo, têm batons, sabonetes, desodorizantes, etc. 
Deixo aqui todos os contactos e o crowdfunding que eles estão a fazer, se gostarem da marca, apoiem-na e recebam os produtos deles 🙂 
Espero que tenham gostado deste post! Um beijinho* 
They have shampoos for all types of hair and even have conditioner! In addition to hair products, they have lipsticks, soaps, deodorants, etc.
I leave here all the contacts and the crowdfunding that they are doing, if you like the brand, support it and receive their products 🙂
I hope you enjoyed this post! Kiss*
info@vegancare.pt
964299216